The area of Cappadocia is a large region that is most easily reached by Kayseri airport (or train station if you have the time). These days most travellers fly in, thanks to the cheapness provided by Pegausus and Andolu jet airlines, and it is only 1.25 hours from Istanbul through flying, whereas by train it can take at least 10 if things go a hundred percent.
After we arrived here we explored the town of Kayseri, which like the rest of Turkish cities, is open late. It was amazing to see how modern and clean and spacious Kayseri is. There are a wide variety of shops and malls to get to even as late at 9:30 pm. During our other evenings here, we also go to taste the local dish of Manti, which is a pasta like dish with a meaty filling, that you eat with yoghurt. We also go to enjoy a traditional Ottoman Tea House, where we drank an extremely lovely drink made from orchids called Sahlab/Salep. If you get the chance (as we did) driving up Mount Erciyes, provides an amazing view. At night the view over the city is very pretty with all the lights (Kayseri has a population of almost a million). But the actual mountain is very interesting with its minor domes and huge size (3916 m), and you can drive up as far as 2200m which is very impressive. There is a lake that was frozen over and interesting alpine birds. It is a good way to spend a half day if you have it to spare (in ski season I am sure its great with a very good chairlift taking you up much higher).
The actual reason of heading to Kayseri was not to explore the above, but to enjoy the wonders of Cappadocia which refers to a geological monument. This area has a lot to offer in sites from the cultural aspects of people living in these magnificent rock formations to the actual rock formations formed through erosion and the amazing tephra soil. The soil here is quite interesting as the different tephra layers has provided the extreme differences seen over the area in formation and colour. It is hard to explain the different aspects of this area, so rather then writing a book on it I will summarise the key areas of must see from our point of view.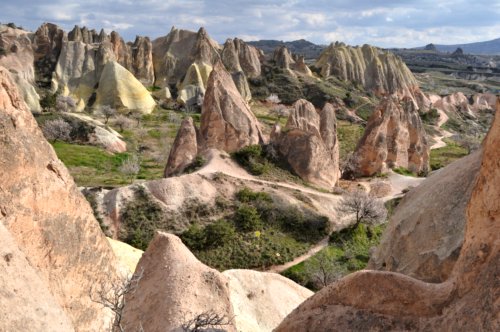 One of our favourite areas (2 TL entry) was the Red Valley. Here you could spend days if you had the time. The chimney like domes that are here vary in colour, with white, pink and yellow and the colours in between them. It is hard to describe in words the wonder as you are walking around here. Every so often there is an opening in the rock where in the past someone had started digging or did successfully to build a home. The homes in this area are now modernised (at least close to the carpark) into more touristy things like a winery. But there are also remains of churches as in other areas.
Another partciuarly amazing thing in the area is not the Goreme open museum (you can actually see quite a bit of it without paying to get in) but the relatively unknown Soganli Valley (also 2 TL entry). For the majority of the time that we were there, we had the place to ourselves. Here, are the best perserved rock churches with mostly original artwork from Byzantine times. Sadly the artwork is being destroyed by stupid tourists putting graffiti over it, but you can still see a lot of it. Like most places in Cappadocia there are houses or group villages gouged into the rock, and it was amazing to see the tunnelling not only in the rock outcrops but leading back into the hills.
The underground city at Derinkuyu was amazing (15 TL entry)! There was extensive tunneling of which you can actually only get into a small percentage of the overall complex. There are many of these underground cities all over Cappadocia but this is one of the larger ones. There are communal halls, churches and living areas, as well as little side places which once housed induvidual families. You get completely disorientated with the constant turns and stairways up and down. One of the main airshafts was a good 30m deep and we didn't even get down to the level of the bottom of it totally.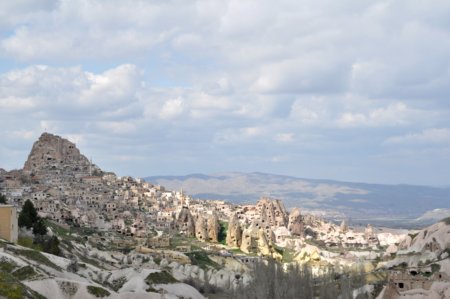 Uchasir, is a very interesting area to get the postcard pictures of the different types of formations, as well as, Turkish village in one setting. The best part of this town is the Pigeon Valley (just outside) which if you can get away from the throngs of tourists provides an excellent view over the towns massive pinnacle, village, and surrounding "fairy domes". And as the name suggests it is full of pigeons (most of this is probably due to people feeding them these days), as well as, sparrows. There is a great little cafe that provides a great view and good Turkish tea.
The best way to see the many different sites is by car. You can get around with buses but they are not relguar and dont take you to the random little places and you cannot stop when you see something amazing. As you drive along, there is literally something around every corner that is worth stopping and absorbing if you can. There are also tours but they are crowded, noisy and annoying. If you ever go to this area, pay what seems at first the little bit extra as its worth it to have a car.