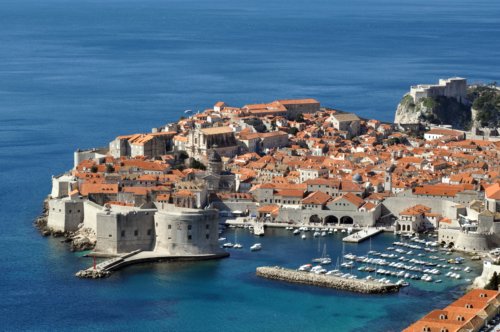 After getting in from Montenegro, we had the pleasure to explore the coastal region of Croatia. Our first stop was Dubrovnik. The old part of town enclosed within the walls was very nice and we had an amazing view over it as we approached. It was sad to learn that most of the buildings were actually new as they were badly damaged during the war. We arrived at a good time it seemed as there was the end of a festival going on, and there was a stage with a lot of kids dressed up with various themes. Not quite sure what it was all about, but was nice to see.
From Dubrovnik we carried on up towards our stopping point of the night in Omis (near Split). Along the way we had to pass through a small stretch of Bosnia. We learnt that night from our host, that the reason this tiny part of land belongs to Bosnia, was because the Dubrovnikians of the past didn't want much to do with the rest of Croatians, so they gave that tiny portion of land to the Ottomans, who were in Bosnia at the time. And after the break up of Yugoslavia, this part of the land was kept by Bosnia. Or so we were told. The only town in this area is Neum and there isn't too much to see here.
Once back in Croatia, the amazing scenery continued. Little villages dotted along the coast with impressive mountains behind them.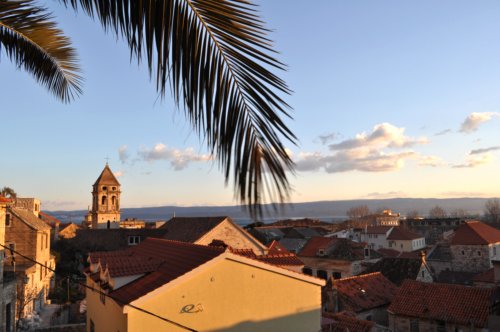 The mountains are also interesting to look at, as they in general do not have many trees on them, and are quite rocky (of course mountains are made of rock, however they looked like they are composed of piles of them).
Stopped briefly in Gradac, where Martin holidayed when younger. This town is adorable. Nice pebbled beach and very nice looking water. Made it to Omis, which is an old pirate town. The castle on the top of the hill was for a ruling pirate family, and the lower tower was a look out point for it. The old town is very pretty with narrow streets to walk through. Beach of course is also good, although the wind had blown quite a bit of sand away.
This time of year in Croatia there are very strong winds. This was evident the whole way up with mass sea spray and mini water spouts forming. Also interesting weather to note is that is was actually was snowing at one point. Was really surreal, we thought it was seeds but nope, snow.
After exploring Omis, we headed out for dinner with our host to a very nice place just along the coast, where we had very nice tasting Croatian coastal food. We stayed the night in the small town of Stanici. The view from our apartment in the morning was fantastic; could see over to the island across the way and wonderful sea views.