The roads here made the remainder of our journey through Albania much longer than expected which decreased what we could see in Montenegro, but it was an experience. As mentioned in the other section on Albania, the roads here are much worse. Although it doesn't seem to deter the Albania's who speed along clearly without having any suspension anymore. Being much more populated than the south, there is also much more people to avoid as you are driving along, especially in cities where the central part seems to be just one bit market.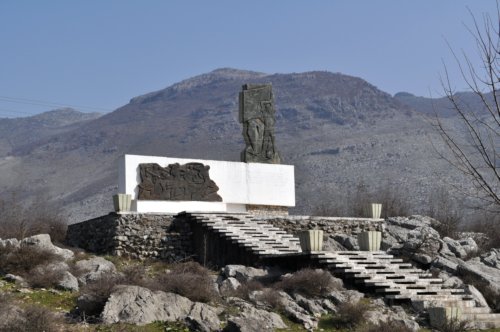 The mountains here are geologically different to the Southern ones, with different stones protruding out, and as with a little patch of the south, all on a lean of very odd looking angles. Very pretty. Didn't have much time to explore the area here as we were trying to get onto Montenegro as soon as possible since were already being our schedule, but sadly we didn't end up seeing to much there either. But important to note is the honesty of the people in the smaller villages. We stopped for a food break (2 coffees, ice cream, bar, 2 waters, all for 2 EU), and got overcharged at first. When they realized their mistake (we had no idea), they returned the money.
For Albania in general, there is a lot of reminders of the war,. Especially along the coastal regions and the borders (the Greek one was the worst) are gunners holes everywhere. These days though they have fallen into disrepair and some have even been used to create fishing platforms in rivers. There are a lot of abandoned houses, which is in stark contrast to the massive (3 stories in most cases) houses that exist. Of these massive houses though, about 30% are empty or unfinished. Seems that ideas and dreams are big but something got in the way.